Heathrow Luton Airport Bus Shuttle Transfer
National Express Airport Coach Service - The Only Direct Public Transport Link Between LHR & LTN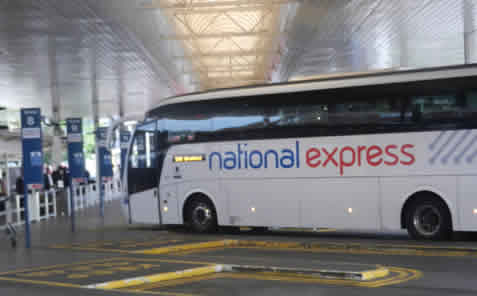 Bus At Heathrow Coach Station
National Express Bus Between Heathrow & Luton Airport
The only direct public transport between London's Heathrow and Luton airports are the National Express coaches which shuttle between the two airports.
Note - there is no direct Heathrow - Luton train service.
Note - there is no Heathrow - Luton shared van shuttle style service.
The Luton - Heathrow Airport Bus is operated by National Express with comfortable coaches complete with on board washrooms. Currently this is the only scheduled direct public transport service operating between Heathrow and Luton Airport. The only alternatives are taxi / charter bus or to travel by public transport into Central London, then get transport out again.
Minimum Times Between Flights ?
The absolute minimum time with no contingency between flights that you should contemplate making a transfer between Heathrow and Luton is 4.5 hours.
Terminal layout at Heathrow is such that if you are flying into or out of Terminals 4 or 5 the bus will take 25-30 minutes longer than if you are using Terminals 2 and 3.
Road Congestion Warning!
The route of about 35 miles (56 kms) between Heathrow and Luton is along heavily congested motorway/freeway.
Mondays to Fridays between 06:30 and 10:00 and 15:30 and 19:00 traffic congestion is routine, expect delays of 15 minutes or more.
There can also be severe congestion late Sunday afternoon/ early evening. But at anytime the slightest incident can bring the road to gridlock.
The approach road to the passenger terminal at Luton is also prone to traffic congestion delays.
Inter Airport Transfers

Airport to Airport Transfers

Airport Hotels

Airport Day Rooms

Airport Lounges

Groups
Inter Airport Transfers
Airport to Airport Transfers
Airport Hotels
Airport Day Rooms
Airport Lounges
Groups
Finding The Bus At Luton & Heathrow
Luton Airport
In front of the main front doors of Luton Airport's passenger terminal is a very large bus station, you cannot miss it. Everyone has to walk through it to get to the other forms of transport like the taxi rank and car park shuttles. All the different buses are lined up with their own bus bays.
Heathrow Airport
At Heathrow its a lot more complicated, the key points are :
- No buses visit Terminals 2 and 3 - you walk to the Central Bus Station
- All buses visit the Central Bus station. (Terminals 2 and 3)
- Buses will normally visit Terminal 5 and some buses visit Terminal 4. Both terminals are a couple of miles apart on the other side of the airport from Terminals 2 and 3.
- You can travel free from Terminal 4 and 5 to the Central Bus station by Heathrow Express train which runs every 15 minutes.
- The walk from Terminals 2 and 3 to the bus station takes about 10 minutes. Its luggage trolley friendly and is mostly along moving walkways and lifts. Its also underground so you are not exposed to the elements.
National Express Luggage Allowance
You can carry two medium-sized suitcases - weighing up to 20kg (44 lbs) each - plus one small piece of hand luggage per person. Drivers loading the baggage do not weigh bags. Customers will be permitted to pool their individual allowances if they are travelling in a group or as a family, but they must be travelling on the same ticket.
Over this allowance and steep excess luggage charges kick in. Passengers within the luggage allowance get boarded first, those with excess luggage only get boarded if there is sufficient space left in the luggage hold, even if they have purchased a ticket.
National Express Bus Routing
The Heathrow - London buses are not dedicated Heathrow to Luton buses. There are currently two separate routes, south of Heathrow buses are going to or are from London Gatwick Airport. One route stops at Terminal 4 and Terminal 5 before the Central Bus Station, the other just stops at Terminal 5. If you are using Terminal 4 you can get the Heathrow Express train free from below the passenger terminal to the central area where the Coach Station is located.
Indicative Journey Times of National Express Heathrow - Luton Bus

Heathrow Terminal 5

00:00

00:00

Heathrow Terminal 4

-

00:10

Heathrow Bus Station (Terminals 2,3)

00:15

00:25

Hemel Hempstead

01:05

-

Luton Airport

01:35

01:30

Note: There are no stops at any airport hotels
Purchasing Tickets
You can buy tickets at the National Express ticket desks in the coach station at Heathrow or kiosks in the arrival halls at Luton and Heathrow. You can also purchase e-tickets in advance on-line using a credit card.
If you book on-line you are guaranteed a seat on the schedule you select, turning up on the day you are not.
It is recommended booking a service at least 80 minutes after the arrival time of your flight. ?
Variable Fares & Best Price
On the Heathrow - Luton route there is no set standard fare, when you go on-line below you will normally be offered at least two prices depending on which schedule you select.
If you purchase at short notice fares will often be higher than if you purchase well advance.

---
Luton - Heathrow Airport Private Transfers
A private car or bus with a clear run takes around 50 minutes to make the journey between Luton and Heathrow.
As well as being the most convenient and stress free option, private vehicles can make real sense, especially if there is a group of you or you have lots of luggage.

Time To Kill At The Airport? - Why Not Visit Windsor Beside Heathrow Airport
If you have a late flight out of Heathrow and have to check out of your hotel by late morning then you have time to kill. Similarly, if you are in transit between flights with a long gap in between, killing time at the airport is something most people dread the thought off.
A much more attractive proposition is to spend your time in the attractive town of Windsor, just a few miles from Heathrow Airport. Windsor Castle pictured right is what it is famous for but there is much much more to Windsor and Eton than the castle.
We have flexible packages for all group sizes.
A luggage storage service is available whilst you are in Windsor and there is a flat fee rate, no matter how much or little time you spend in Windsor - no waiting time charges apply.
The stopover solution is a private solution customised to every customer. This is not a public tour with set operating times.
Windsor Stopover / Late Flight Solution - More Details
---